Products
Creating Products
In PrintJourney, turning your designs into ready-to-sell products is a straightforward process that brings you closer to your e-commerce goals. Here, we will guide you through the steps of creating products and preparing them for your customers.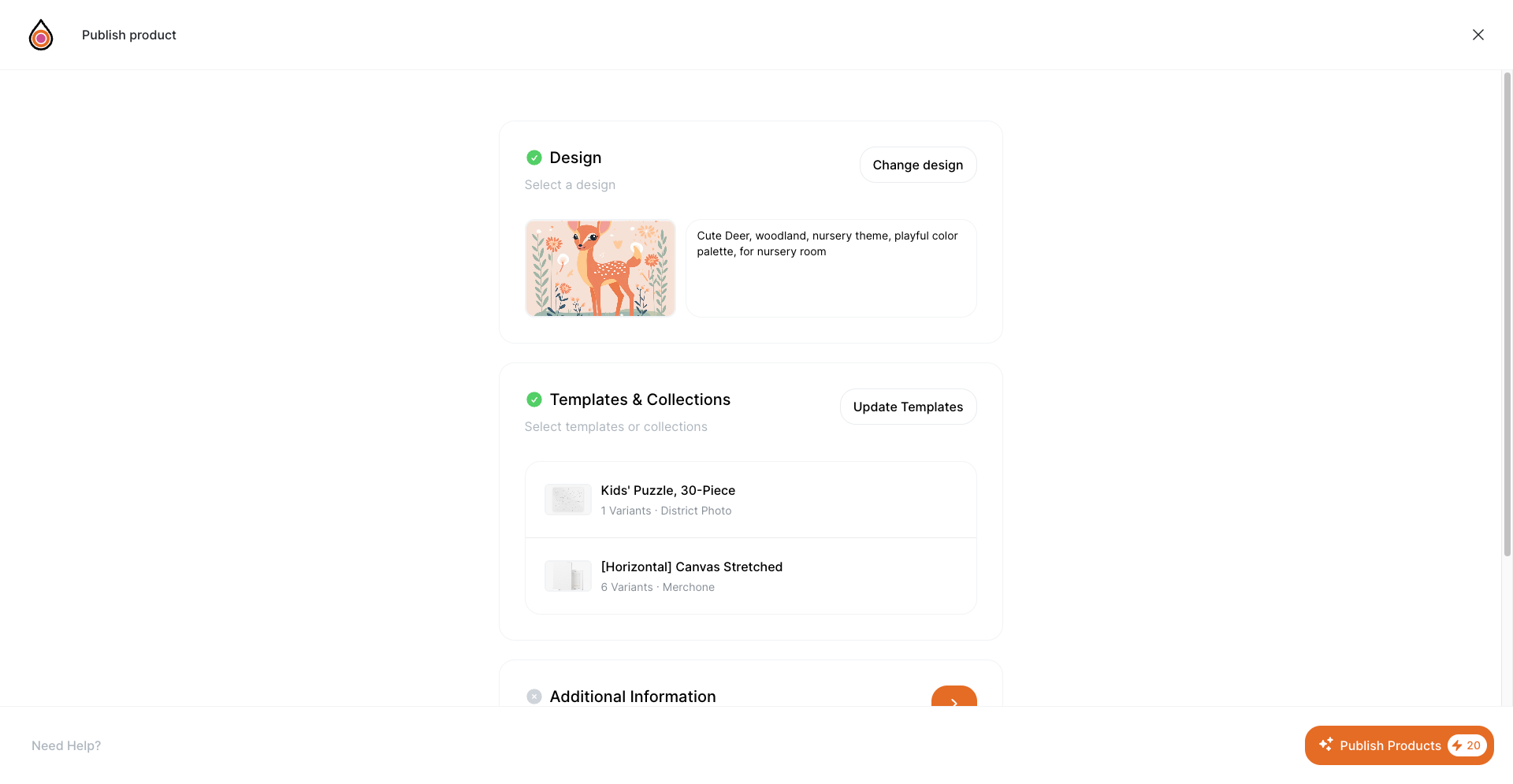 Step 1: Selecting Your Design
Begin by choosing a design from your library:
Design Library: Navigate to the 'Designs' section and choose a design that you'd like to feature on a product.
Design Evaluation: Consider how your design will look on different products to ensure it aligns with your brand and appeals to your target audience.
Step 2: Choosing Templates
Pair your design with the right product template:
Template Selection: From the collection of templates you've created, select one or multiple that best fit your chosen design.
Collections Selection: Choose a collection that includes your favorite tempaltes.
Step 3: Prompt and Additional Information
Provide details that will help customers understand and find your product:
Prompt Input: If your design was generated using a prompt, you can refine it to be more consumer-friendly or reflect specific marketing messages.
Keywords: Add keywords that describe your design and product, aiding in search engine optimization (SEO).
Step 4: Publishing Your Product
With all details in place, you're ready to publish:
Overview: Review all selections and descriptions to ensure they meet your requirements.
Publish: Confirm and publish your product, making it available to customers on your connected e-commerce platforms.
Step 5: Managing the Publishing Queue
After initiating the publish action, your product enters the queue:
Queue Tracking: Keep an eye on your product's status as it moves through the publishing queue.
Troubleshooting: If a product fails to publish due to errors, address the issues to proceed with publishing.
Important Information
Creating a product is a critical step that bridges your creative work with commercial success. Take time to assess every aspect before publishing:
Optimization: Ensure your product metadata is fully optimized for your target audience and search engines.
Consistency Check: Verify that the product descriptions and visual presentations are consistent across all platforms.
Update Flexibility: Remember that you can update the product metadata in the future, but the product's first impression is vital, so aim for perfection from the start.
By following these steps, you can efficiently create and publish products on PrintJourney, growing your print-on-demand business and reaching customers eager for your unique designs.