Transform your prompts into visually compelling designs with AI in PrintJourney. This powerful tool harnesses artificial intelligence to interpret your ideas and fashion them into high-quality images ready for your products. Here's how to navigate and maximize the design generation feature for your print-on-demand business.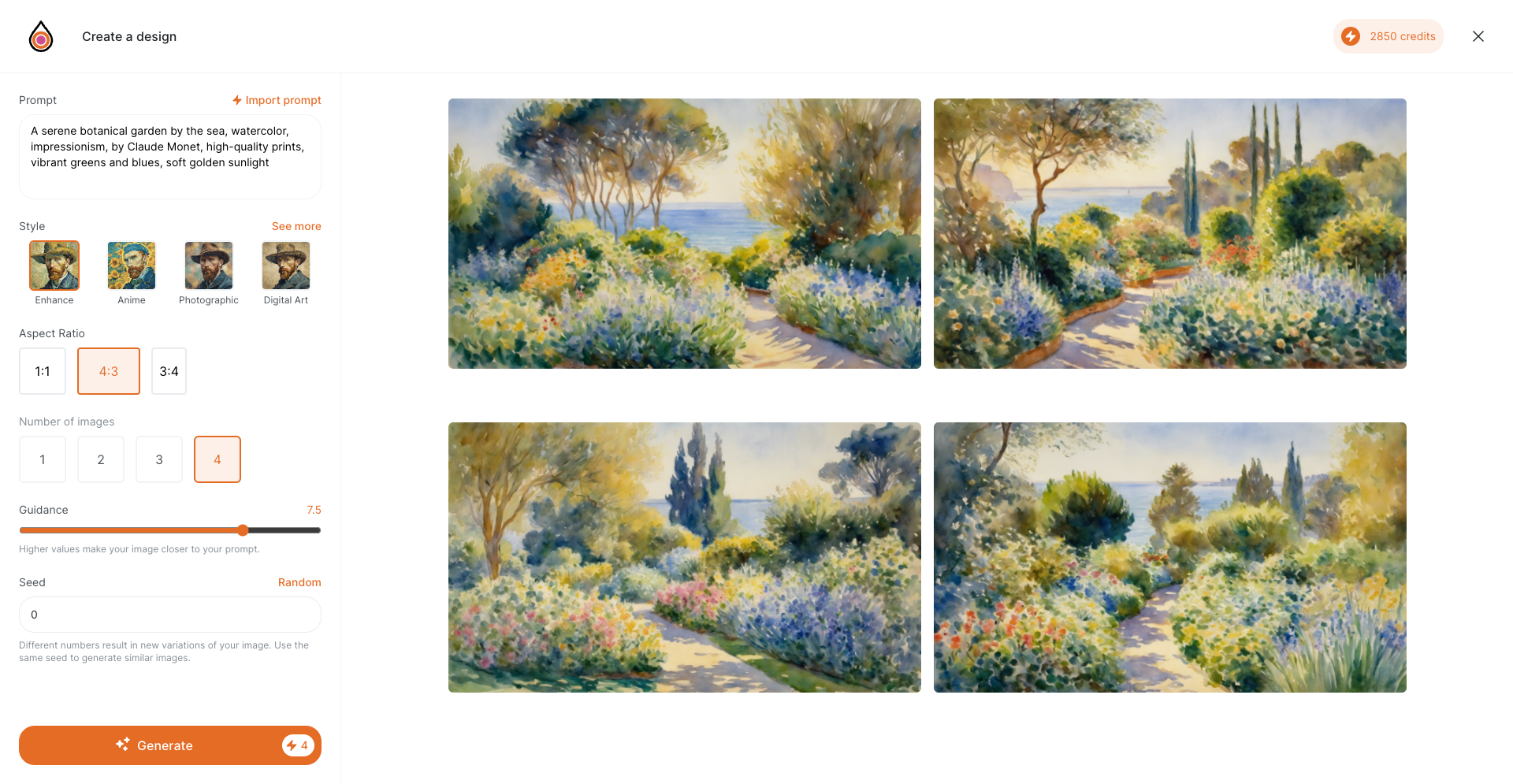 Initiating Design Generation
Creating new designs is just a few clicks away:
Access the Feature: Locate and click 'Generate Design' from your PrintJourney dashboard.
Input Your Prompt: Begin by writing a descriptive prompt that reflects the essence of the design you want to create. Be as specific or abstract as you like — our AI will adapt to your creativity.
Select Your Style: Choose from a diverse range of artistic styles to align your design with your product's theme or brand message.
Fine-Tuning Your Creation
Personalize every aspect of your generated design to ensure it meets your exact specifications:
Aspect Ratios: Select the ideal aspect ratio for your design to fit a variety of products, whether it be a square, portrait, or landscape orientation.
Image Quantity: Decide on the number of images to generate. Multiple images give you a range of options to choose the one that best captures your vision.
Guidance Slider: Use the guidance slider to control how closely the AI adheres to your input prompt. A higher value means a closer match to your description.
Unique Elements for Distinctive Designs
Dial in the uniqueness of your designs with these additional controls:
Random Seed: Each design is generated with a unique number known as a seed. You can allow PrintJourney to generate this number randomly, or input your own for more personalized control and reproducibility.
Seed Input: If you have a specific number in mind, enter it to influence the design output. This can be particularly useful when you want to iterate on a design while maintaining certain consistent elements.
Generation Button: Once you're set with all the options, hit 'Generate' to submit your request and let the AI do its magic.
What to Expect After Generation
After you've initiated the design generation process, the magic happens:
Preview: You'll be presented with the generated designs based on your inputs. Here, you can review each image and select the one that best fits your needs.
Download: Download your chosen designs in high resolution, ready to be applied to your product templates or stored for future use.
Iterate: If the designs aren't quite what you were imagining, you can always iterate on your inputs and generate new images until you find the perfect match.
The Generate Designs feature in PrintJourney is a tool that opens up endless possibilities for creativity and product development. With its straightforward interface and powerful AI, you can easily create designs that stand out and resonate with your customers – all while saving time and resources.