PrintJourney not only facilitates the generation of new designs through AI but also empowers you to upload your own custom creations. Our upload feature is designed to seamlessly integrate your personal designs into your PrintJourney product catalog. This page provides the guidance you need to successfully upload your designs and prepare them for sale.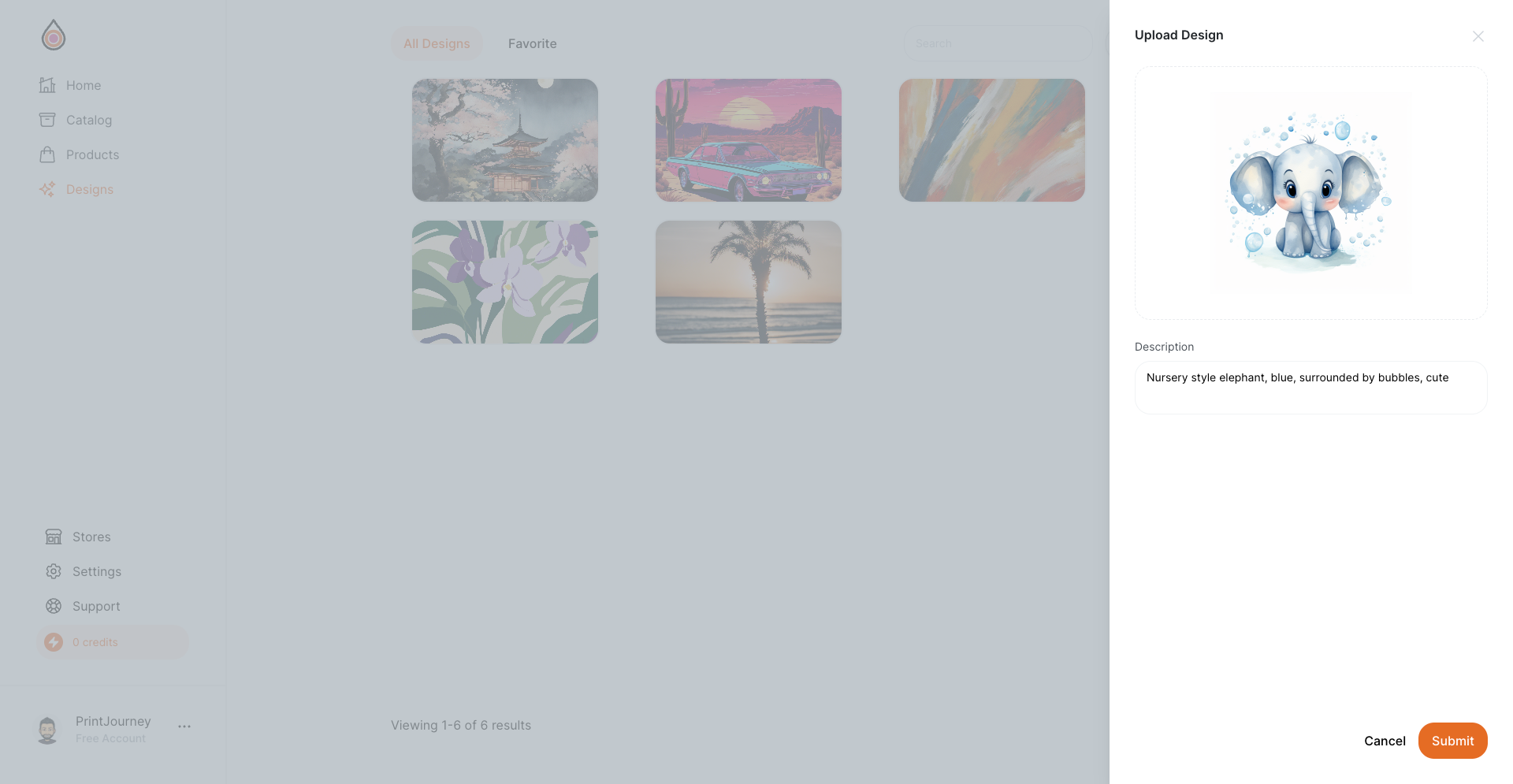 Preparing Your Design Files
Before uploading, ensure your design files meet the following criteria:
File Format: We accept popular image formats such as JPEG, PNG, or SVG.
Size Requirements: Images should be less than 5MB for optimal performance.
Resolution
Before sending your design for publishing, we use AI to upscale the resolution to ensure high DPI and quality prints.
Step-by-Step Upload Process
Uploading your designs is a straightforward process:
Access the 'Upload Design' Feature: Locate the 'Upload Design' button on within the Designs page.
Choose Your File: Select the design file you wish to upload from your device.
Provide a Description: Enter a brief description of your design. This is required to tailor your product descriptions and maximize SEO.
Confirm and Upload: Once you've selected your file and entered your description, confirm the upload and begin the transfer process to the PrintJourney cloud.
After the Upload
Once your design is uploaded:
Design Preview: View a preview of the uploaded design in your Designs library.
Apply to Products: You can immediately start applying the design to your templates to create new products.
Make Edits: If you need to revise the description or replace the image file, you can edit your uploads at any time.
PrintJourney is committed to providing a platform that supports your creative freedom and flexibility. By allowing you to upload your own designs, we ensure that your unique vision can be shared with the world through quality print-on-demand products.
Community Standards
Uploaded designs are subject to our terms of service and acceptable use policy to ensure that all content meets our community standards.